I've got to be honest with you. I'm not typically a morning person, but today I'm up and about with a little pep in my step. In fact, I'm currently channeling Marching Band Spongebob:
I'm giddy because it's time for another #BookBirthday! Not just any book birthday, mind you. I am thrilled to announce that Symphony Amore: Erotic Stories of Love and Music is available today!
This collection is special to me for two reasons. First, it's the first time I've stepped into the role of editor, which was an overall terrifying and gratifying experience. Making the decisions was a challenge, but a necessary one. I'm so grateful to each person who submitted his or her story to this endeavor. The authors who are included in this collection have written some beautiful, intimate, and unique stories. It is my wish that readers enjoy them as much as I have.
At times, putting this collection together felt a bit like being a conductor. Each story, like each instrument, complements each other while being wildly different. My role was to fit them together in the best possible way. I may be biased, but I think the finished product will be a gem in readers' collections.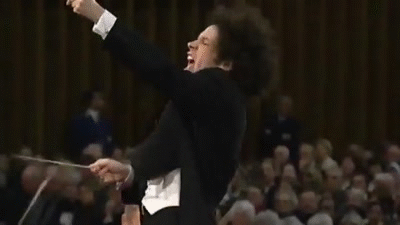 The second reason that this collection is special to me is that, quite simply, musicians are hot. Again, I might be biased due to my musical background. However, it was my experience that this turn of phrase is a 100% fact:
In my experience, the sexiest musicians are those that are a bit strange. I'm talking about the band and orchestra kids, the DJ pioneers, the guys and gals in the basements noodling away at their instruments striving for better things. They've got some blinders on, sure, but when a gentle hand reaches out to take off those blinders, you might be in for one passionate person. In this case, you'll find several passionate characters.
Of course, I contributed an original story for this collection. It's a love letter to all of my brass playing folks, and I do hope it's as fun to read as it was to write.
Here's an excerpt of my story, Brass Trio!
The trio raised their instruments to their lips, as they'd rehearsed. They inhaled together. Angela whispered, "One, two," tapped the third beat, and came in with her sixteenth note pickup.
The first movement, Allegro Moderato, was lively, but not difficult at first glance. The devil was in the details: Veronica focused her tongue into a tight point, landing the staccato notes precisely. Justin maintained the steady pulse with low, warm tones, while Angela's fingers flew along the trumpet valves.
During the second movement, marked Andante, the mood shifted to a slower tempo and a softer dynamic. Veronica looked to Angela, watching her friend sway her horn in time. It was easier to get lost during slow pieces than in faster ones, at least for Veronica. She stole a glance at Justin, who was playing his trombone splendidly. At the conclusion of the movement, she shot a smile at him, which he returned.
The third movement, Rondeau, was faster in tempo than both the first and second movements. Veronica concentrated, as this movement featured a horn solo; though not technically difficult, she wanted to nail it. When they all made it to the section, she played her eighth notes with precision, much to her delight. There was a pause in the music, and they all looked at each other in that brief gulf of silence before restating the theme at a breakneck presto. Justin moved his slide rapidly, while the two women pressed their valves in time.
As the final chord of the sonata resonated through the recital center, Veronica took a deep breath and lowered her horn from her face. Angela and Justin smiled at her as they both took their own instruments down. The small audience broke out into more robust applause. The trio bowed, thanking the crowd that had attended their performance. Veronica made sure to look at the faculty members adjudicating, forcing herself to soothe her nerves as they furiously scribbled their comments and scores.
With a final bow of her head, she followed her bandmates off the stage.
You can grab Symphony Amore: Erotic Stories of Love and Music at the links below.
Happy reading, everyone!